Our Merano region, your vacation activities
...offer you everything that will make your heart beat faster
Experience Merano, the pearl of South Tyrol. Delight in the splendor of many exotic plants, of medieval treasures, and of modern façades and unique buildings.

Don't miss out on the numerous events of all types in the spa center, in the town theater, in the Kellertheater, in Kallmünz castle, in the gardens of Trauttmansdorff, in Schloss Tirol, and in the Garden of Sounds of Martinsbrunn.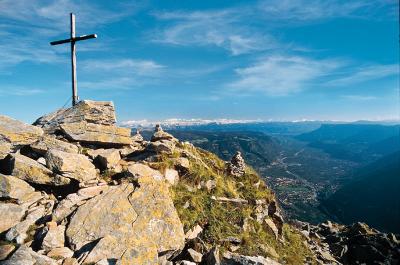 Hikingin in the Meraner County
Branching out in all directions is a network of hiking paths, with something certain to appeal to everyone. Discover our beautiful land by foot, either down in the valley or high in the mountains. Even setting out from our house, you never have to take the same path.
Well-developed bike paths are a great experience for every biker.
The spectacular scenery of the alpine passes will excite every motorcycle enthusiast.
And so much more is offered:
…horseback riding, climbing, guided hikes, guided town tours, wellness and relaxation at the spas of Merano; numerous castles, palaces, museums, churches, and the botanical garden are all just waiting to be visited.

In our information corner you will find many great ideas for your vacation.